Non-pharmaceutical Pandemic Countermeasure Technology
UVGI Ultraviolet-C emissions from Mercury-line Bulbs (253.7nm) and Deep UV/UVC LED (260-280nm) Technology or, more recently, the use of advanced AP-UVGI Far-Ultraviolet-C emissions from Far-UVC 222nm Excimer Bulbs, Microcavity Plasma Lamp (222nm) or Nanotech LEDs (219nm) Technology can all be used for mitigating the impact of epidemics and pandemics.
However, stark differences exist between legacy UVGI (Ultraviolet Germicidal Irradiation) and new AP-UVGI (Active Personnel Ultraviolet Germicidal Irradiation) technology.
Contrary to the well-established UVC hazards to humans using UVGI applications, Far-UV irradiation between 207nm to 222nm used in AP-UVGI applications has already been shown safe for Active Personnel in areas undergoing a UV disinfection process in real-time. AP-UVGI marks an era of fully immersive human safe Far-UVC germicidal irradiation, when and where it is needed the most – surrounding people!
Scientists and industry leaders already recognize the use of new Far-UVC LED and Far-UVC Bulb product designs as the world's biggest breakthrough for human-safe (bacterial and viral) disinfection technologies. QuantaDose® fully supports the rapid development and deployment of new FAR UV regulations, emission sources, and detection technologies.
QuantaBulb™ – Real 254 nm UVC Corn Light (Legacy UVGI) 
QuantaDose™ – Instant UV, UVC and Far-UVC Detection
QuantaGuard™– Fully Assembled Far-UV Light Products
QuantaLED™ – Far-UVC LED 219NM New Solid-State Far UV LEDs
QuantaModule™– Open Source Far-UVC Design Components
QuantaOptic
™
–
Far-UVC 222nm Optical Bandpass Filters
QuantaTubes
™
–
Far-UVC Excimer Light Sources
UVGi-Fi™ – Far-UVC 219nm 1,369 THz Data Communication
RF Safe Next-Gen LiFi With Bioweapon Defense Mode

QuantaRobotics™ AP-UVGI Automation Technology
QuantaRobots
™
–
AP-UVGI Enabled Far-UVC AI Powered Robots
Quanta X Technology, the parent company of QuantaDose® seamlessly connects community planning strategies for pandemic countermeasures with strategic suppliers worldwide to support the manufacturing flow management process and the development of new technologies for governments, private individuals, businesses, and front-line worker health and safety!
SBA Program Data: WOSB, EDWOSB || CAGE Code: 8UVQ0 || DUNS: 040688312
EPA Company No. 100864 || Est No: 100864-FL-1
Our approach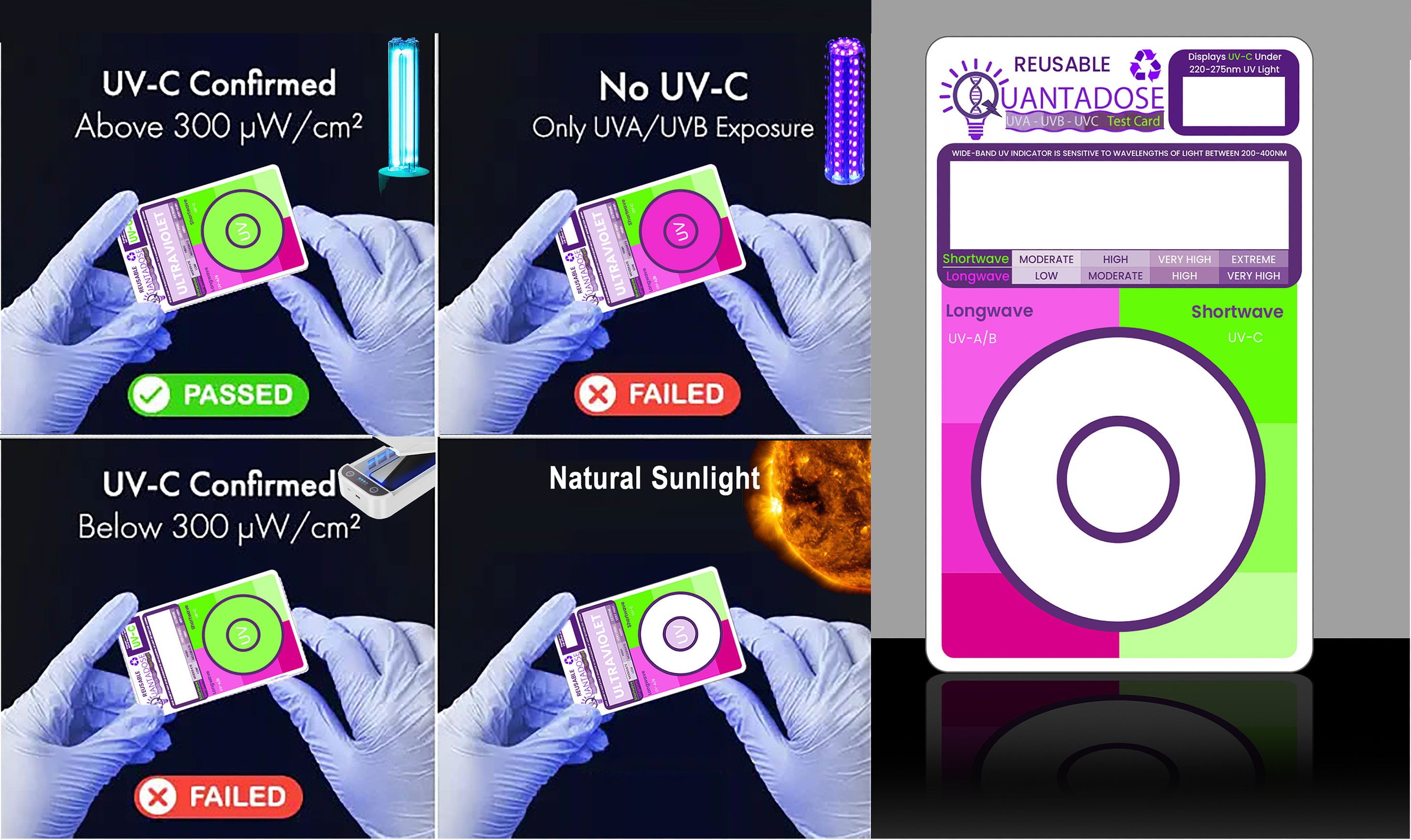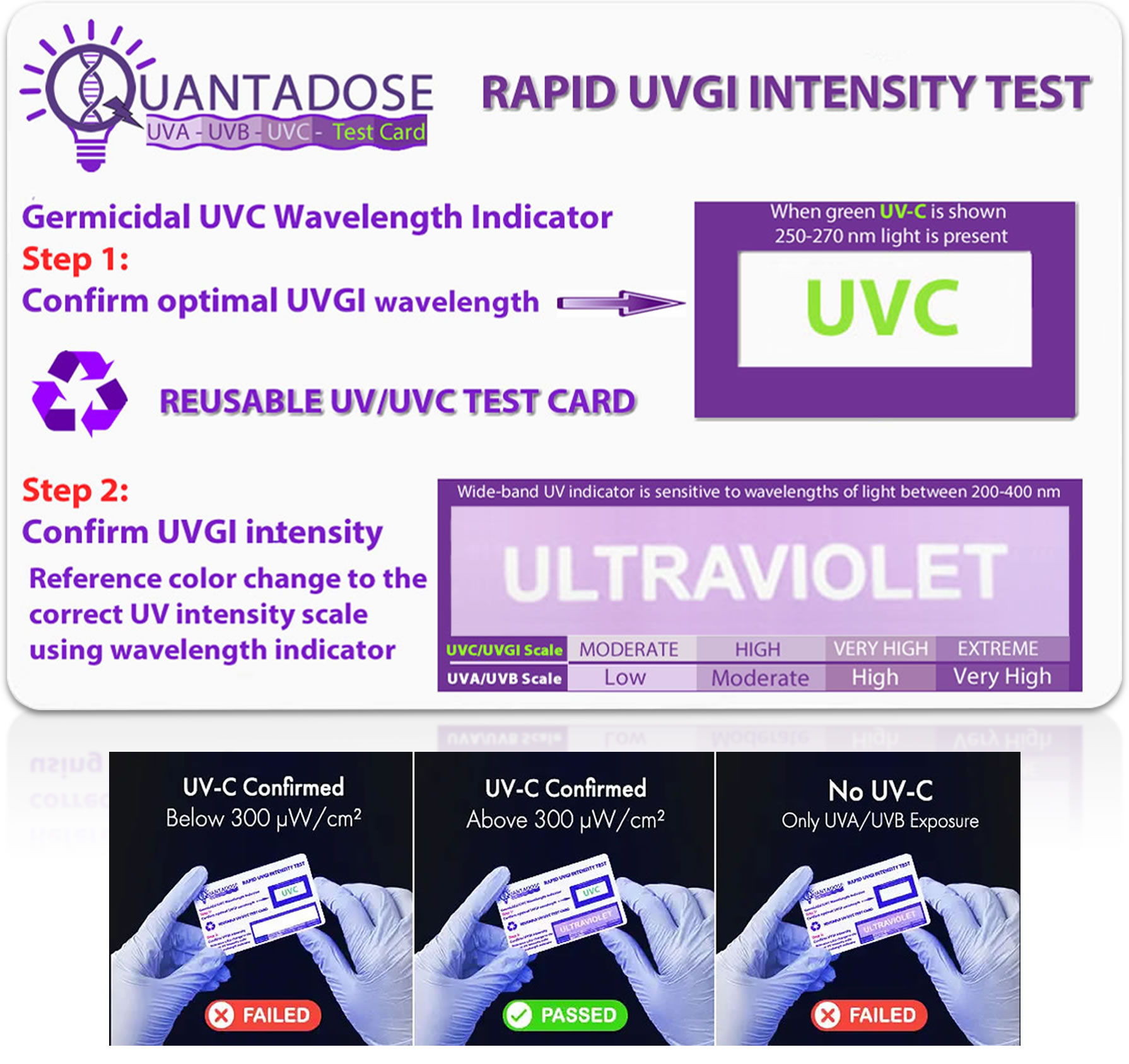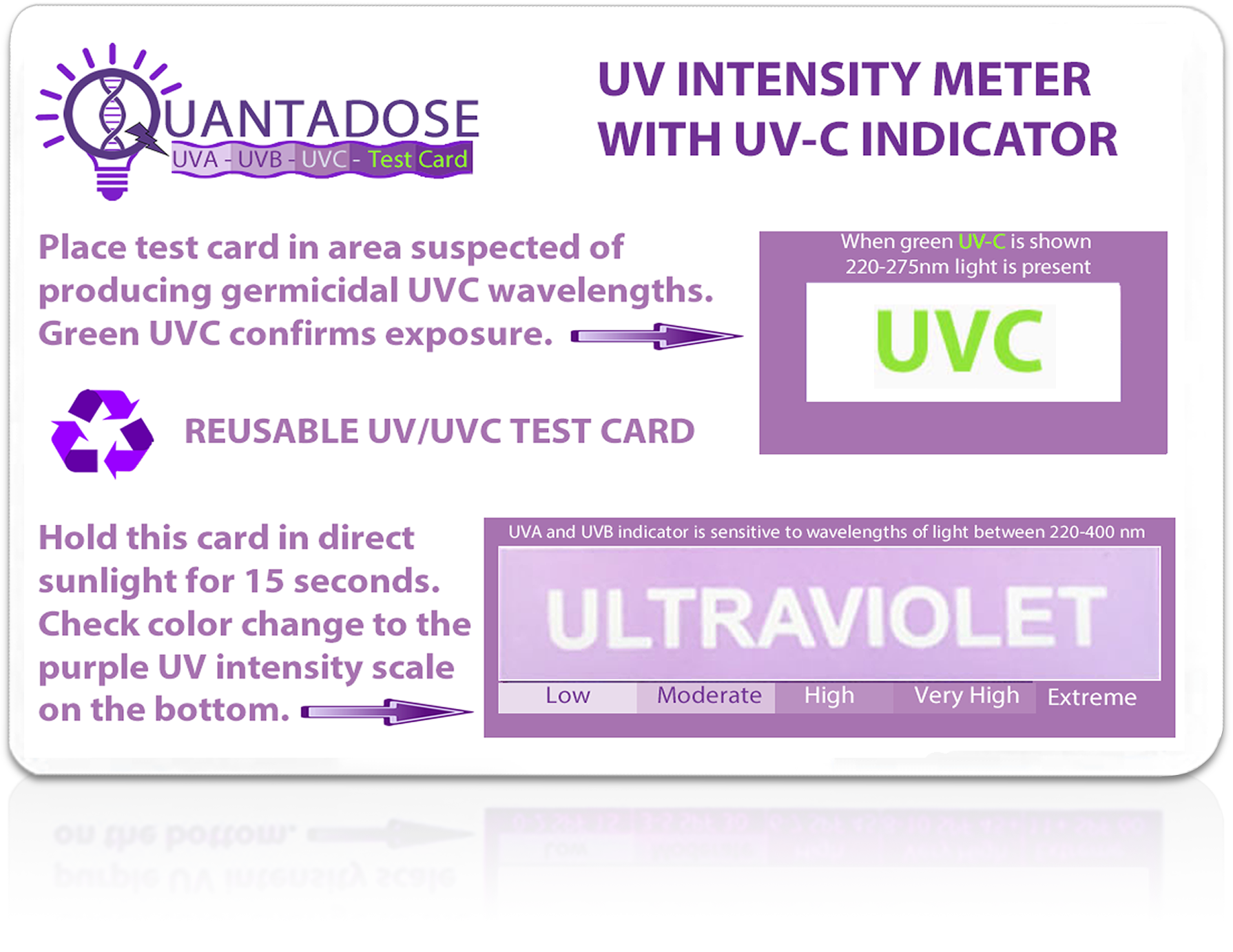 QuantaBlub Real UVC Corn Light 253.7nm & Far-UV Lighting Excimer 222 nm Light Bulbs
https://www.quantadose.com/wp-content/uploads/2022/04/quantaguard-med.pnghttps://www.quantadose.com/wp-content/uploads/2021/09/U10-60W-uv-c-corn-light-60-watt-uvc-corn-lamp-smart-uvc-corn-lamps-300×300.pngQuantaBulb Legacy 254nm UVC Corn Light
Millions of people fell victim to false germicidal claims made by online sellers, LED corn lights claiming to be UVC were the worst offenders. QuantaDose UVC test cards are a vital tool in helping consumers spot these fakes. The QuantaBulb is were UVC light shines through using a revolutionary combination of 4 high-tech proximity sensors and three low-pressure mercury vapor tubes integrated into one smart bulb for a standard light socket.
UVC corn light accessories include the QuantaSocket 3m extension cable, along with the QuantaStand Tripod and QuantaMounts to make the QuantaBulb U10 UVC Corn Light applicable for any standard UVGI cleaning routine!
PORTABLE 254-NM UVC CORN LIGHT QUANTABULB
https://www.quantadose.com/wp-content/uploads/2022/04/quantaguardbig-clear2-shadow-med.pnghttps://www.quantadose.com/wp-content/uploads/2021/03/Excimer-KrCl-222nm-Far-UVC-Light-Bulbs-far-uvc-tube-quantatubes.pngQuantaTubes Far-UVC Excimer 222NM
The most common way to manufacture Far–UVC 222 nm light is producing it by using high-frequency discharge excimer lamps filled with a mixture of noble gas molecule krypton (Kr) and normally less than 3% chloride (Cl) gas. These excited Kr/Cl emissions peaks of 222 nm from excimer lamps eliminate the use of hazardous materials like mercury and allow for near full power operation in only seconds, as compared to several minutes with legacy UVGI mercury vapor UVC lamps.
FAR-UVC 222NM EXCIMER KrCl QUANTABULBS
https://www.quantadose.com/wp-content/uploads/2022/04/light-logo-med.pnghttps://www.quantadose.com/wp-content/uploads/2021/03/15-watt-Filtered-222nm-KrCl-Round-Flat-Lamp-Far-UVC-flat-bulb-15w-24v-DC.pngQuantaModule Far-UV Excimer 222nm
Far UVC 222nm excimer lamps are available as an easy to install Open Source flood beam pattern module with 222nm bandpass filter and lamp housing constructed of aluminum alloy for durability with an expected lifespan of 3,000-10,000 hours for the replaceable excimer bulbs.
Studies at Columbia University and elsewhere show filtered Far-UVC is safe for use in occupied areas. Features instant-on power, mercury-free, higher UV output with low heat output makes the Far-UVC excimer lamp module the preferred choice for surfaces or air AP-UVGI applications.
FAR-UVC LIGHT OPENSOURCE SOLUTIONS
https://www.quantadose.com/wp-content/uploads/2022/04/qg-300.pnghttps://www.quantadose.com/wp-content/uploads/2021/03/20-watt-Filtered-222nm-KrCl-Lamp-Far-UVC-20w-24v-DC.pngQuantGuard Far-UV Excimer 222nm
Fully assembled Plug & Play 5w, 15w, or 20w filtered 222nm Far -UVC excimer lamps are equipped with remote control, LCD control board, and a motion sensor that automatically shuts the unit down when motion is detected or vice versa.
These replaceable mercury-free excimer lamps emit a flood beam pattern with an expected lifespan of 3,000-10,000 hours housed in aluminum alloy construction with 2-layer powder coated grey finish for added durability. Far-UVC excimer lamps are the preferred choice for AP-UVGI applications.
QUANTAGUARD PLUG & PLAY AP-UVGI FAR-UV LIGHTING
https://www.quantadose.com/wp-content/uploads/2021/04/far-uv-60w-bulb-quantadose-tested-at-50m-1-1024×742.jpg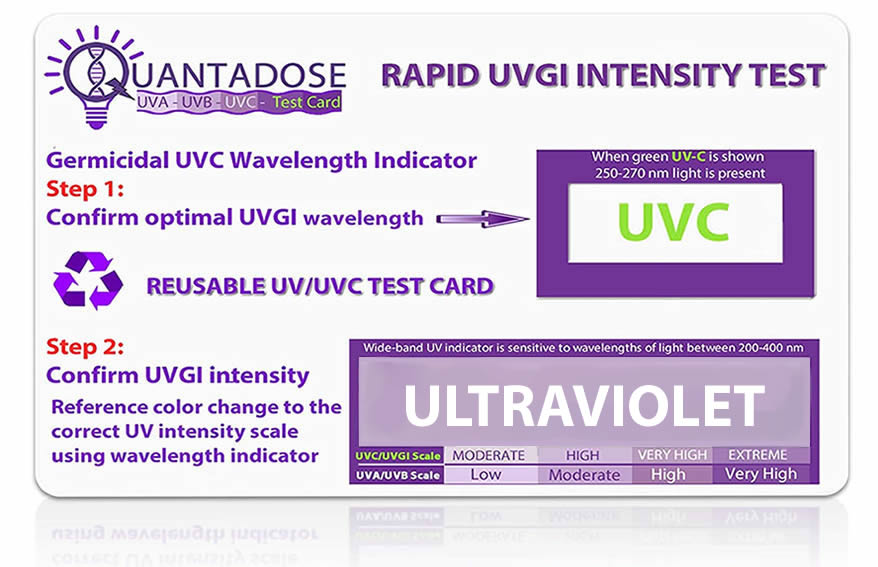 Own a QuantaDose™ UVC test card, yet? It's like having one of our best engineers in your pocket!
Always handy telephone support number is located on reverse side of test card! 1-800-713-9004
Online Instructions page on how to use the QuantaDose UVC Test Card (CLICK HERE)
Order QuantaDose®
View QuantaDose® Press Releases
https://www.quantadose.com/wp-content/uploads/2021/03/Long-term-Effects-of-222-nm-ultraviolet-radiation-C-Sterilizing-Lamps-on-Mice-Susceptible-Ultraviolet-Radiation.jpg
THE BEST FAR-UVC LIGHT BULBS 222NM KrCl KRYPTON CHLORIDE EXCIMER EXCILAMPS
AP-UVGI is a safe and effective technology for indoor public spaces where people gather—from airports, schools, and public transportation to all forms of entertainment venues—that can effectively reduce pathogens.

Return to Normal
"Raise new questions, new possibilities, to regard old problems from a new angle, creative imaginations must deploy  advancements in science to ensure a rapid pace of innovation for a safe future." – Quanta X Technology
Why Partner With Us?
Founded in 2020, Quanta X Technology LLC, the company that created QuantaDose® has acquired a vast pool of expertise pioneering a world-leadership position in non-pharmaceutical technology-based pandemic countermeasures.
Quanta X Technology is driven by the need to prevent aerosolized bio-agent exposure by engaging the bio-agent in territorial suppression techniques using the latest advancements in human-safe quantum-based bio-exposure suppression technologies. AP-UVGI (Active Personnel Ultraviolet Germicidal Irradiation)
The company's mission is to create the best pandemic and post-pandemic era quality of life solutions by engaging in research, design, manufacture, and sale of photon and proton management technologies that are designed to mitigate the impact of epidemics for future pandemic prevention.
Solutions From Light
What Is AP-UVGI?
AP-UVGI is an acronym for Active Personnel Ultraviolet Germicidal Irradiation.
AP-UVGI is the substitution of human-safe Far-UVC shortwave irradiation replacing conventional longer wavelength mercury-line UVGI and UR-UVGI germicidal ultraviolet-c irradiation. The discovery of select Far-UVC wavelengths that are safe for people with exceptional germicidal effectiveness makes AP-UVGI the most disruptive technology-based non-pharmaceutical pandemic countermeasure in human history!
Contact Us
Our highly trained engineers are standing by ready to help you at 1-800-713-9004. Let the QuantaDose® team help you discern fraudulent Ultraviolet-C (UVC) disinfection lighting products from effective ones that are scientifically proven to destroy bacteria and viruses on surfaces with QuantaDose®, the world's first reusable UVC light test card.