Each 150-Watt Excimer Bulb is hand-assembled and manufactured in an official ISO9001 Excimer Far-UV Light Factory (quality management systems) delivered by the Agency for International Standardization.  To provide the highest-quality Far-UV light products globally, a battery of testing that includes but is not limited to: Microbiological Effectiveness Test, IEC62471 (photobiological safety inspection), BACL ( 222m, wavelength test), and CE, FCC, RoHS Certifications.   When you need a 150W Far-UV light bulb, make sure your Far UVC choice is always QuantaDose for the best Far-UVC lighting to meets your AP-UVGI needs. Our experts are standing by to assist you!
QuantaLamp 150-Watt Far UVC Excimer Bulb 222nm Far-UVC F-Series Far UVC 150w Far-UV Light 110V AC
The minimum quantity factory direct price is $528 each
Sample Fee for under 100 units adds $100.00 to the order total!
Shipping cost is determined by location and method of delivery service requested.
100 units = $528 for each unit
1000 units = $472 for each unit
Contact us for quoting 10000 units or more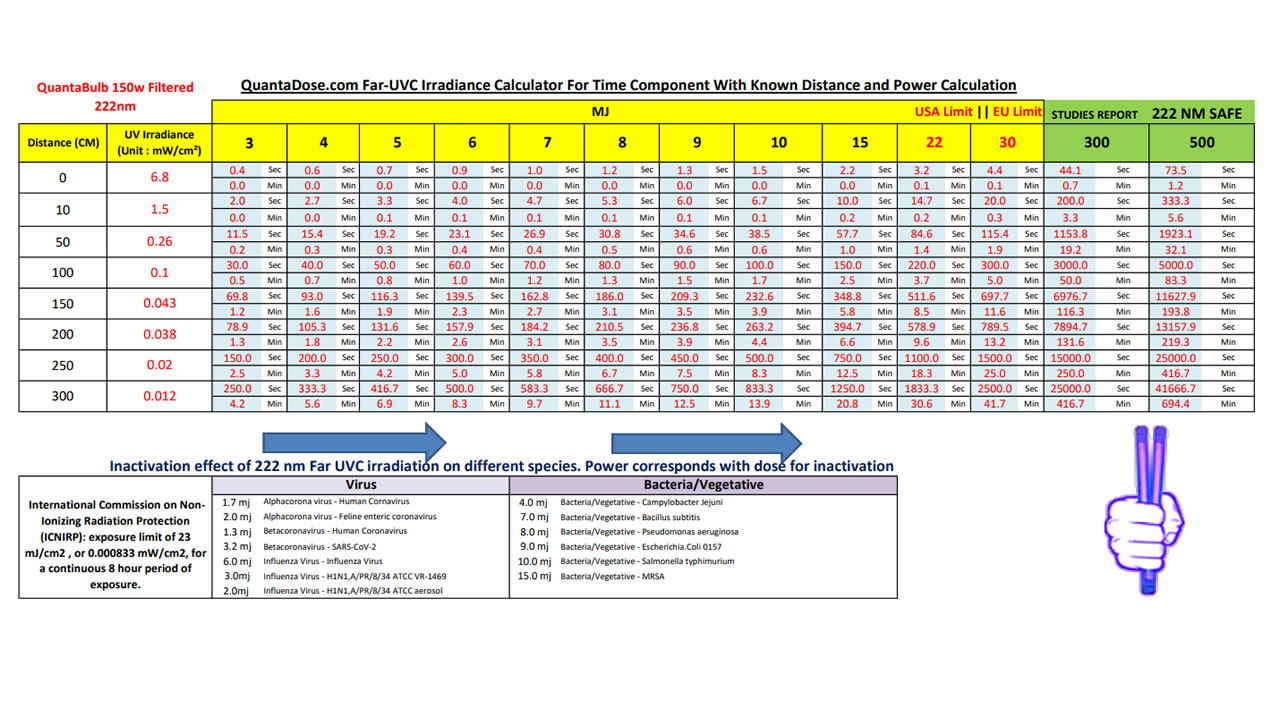 Please use the spreadsheet calculator tool offered below to help designers determine human safe time allowance with a known power and distance.
The below spreadsheet tool can help you figure out the time necessary to be effective UVGI and when the maximum levels of safe 222nm exposure have been reached under current international standards. USA 22 mJ/cm2  EU 30 mJ/cm2
Far-uvc-light-222nm-irradiance-time-distance-power-calculation-tool
Quanta Products using QuantaLamp F40-150W AC220V 150-Watt Far UVC Excimer Bulb:
Quick Details
Input Voltage(V):
AC 110V
( ± 10%)
Lamp Luminous Efficiency(lm/w): 8000
Warranty(Year): 1-Year
Support Dimmer: No
Lighting solutions service: 222nm Far UVC Disinfection
Lifespan (hours): 4000
Voltage: 110V
Application: Home, Hotel, Office, Retail spaces, Occupied areas, General areas, Restaurants, Commercial locations, Airport, School
Power Supply: DC
Portable: No
Light Source: Quartz Tube
wavelength(nm): 222
UV Optiical Power(μW/cm2): 8000
Application Area(㎡): 30
Switch Mode: Manual Button
Rated Power:
150W
UV Wavelength: FAR-UVC 222nm
Safety Requirement: Mercury Free
Material: Quartz Glass, Polymer End-caps, KrCl Gas Mixture
Operating Temperature Range:
-20℃ to +50℃ Warranty: 12 months
Life Span: 4000+
Certification: CE/FCC/RoHS
Beam Angle: 360degree
Dimension: D.40*457mm